When you hire Backhoe Northwest, LLC for your excavation project, you're going to get more than just the right equipment for the job. You're also going to get unrivaled experience—the result of more than 40 years of combined experience by our excavating contractors. We deliver the results your project needs, quickly and precisely.
Our excavation services in Hoquiam, Ocean Shores, Grays Harbor City, and Grays Harbor County, WA are encompassing, and we welcome projects of all sizes. Some of our core capabilities include:
Excavating: More than just digging holes, we tailor our excavation services to meet the specifications of your project. From foundation digging to backfilling, we leverage our robust equipment to get the job done quickly.
Demolition: Need an outbuilding torn down or your property cleared for redevelopment? We offer controlled demolition services to scrap anything on your property that's no longer required.
Grading: For construction projects that require erosion control, we're the foremost authority. We can properly grade and level land to a precise degree, complete with laser leveling for unparalleled results.
Trenching: While other excavation companies in Ocean Shores, WA only provide large-scale excavation, we go above and beyond to provide ditching as well. From utility line ditching to septic line installation, we trench to meet the scope of your demands.
Hauling: Looking for a company to haul away leftovers? Our team can remove debris from your property after we're done prepping it, saving you time and making logistics simple.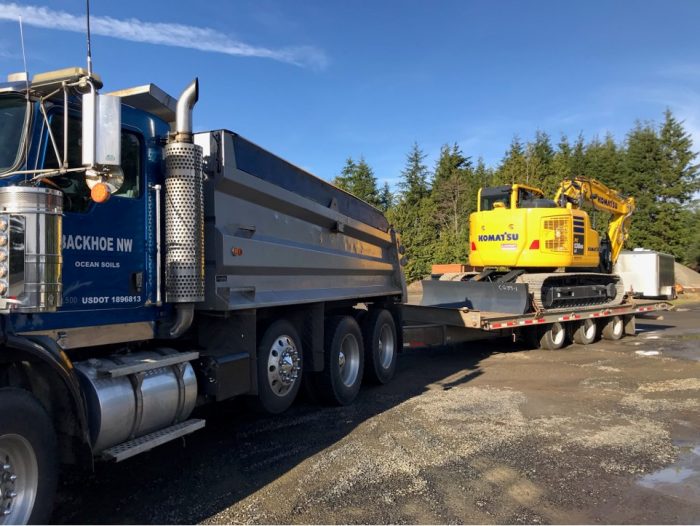 In addition to all of the above excavation services, we're also well-known for our experience and ability to excavate for the foundation of roads, houses and other buildings. We've worked time and again with developers and understand the unique demands of these projects, making us your foremost partner for excavation services.
To get started on your excavation or landscaping project today, please contact us at 360-581-3965. We'll be happy to provide you with a quote after we learn more about the scope of your project.